Here's Why You Should Consider Studying In Australia Post-COVID

Australia has always been one of the most favoured educational destinations for international students, and the support presented by Australia towards its international students has been incredibly impressive. This is reflected in the fact that the government of Australia assigns over $300 million (source: studyinAustralia.gov) for international students coming to pursue their higher education at Australian universities.

In light of the unprecedented situation that the world is going through, the Australian government has stepped up, continuing to take necessary measures to aid international students.
Recently the Australian government has made amendments in the immigration policy to help international students pursue their dreams of studying in Australia. These guidelines allow students to commence their semester online and state that online studies will be recognized for post-study visa applications.

Aside from this, the Australian government will also start granting visas to international students, so that when the borders reopen, students already have their visas and can head to their universities without any further ado. 

Apart from this, students will be able to lodge a "further" student visa application, if they are unable to complete their studies within the validity period of their visa.

Such factors make it clear that student support is an essential part of Australian education, making it an excellent option for students wanting to pursue international education.
However, that's not all. There are several other reasons why you should consider Australia as your study abroad destination. Let's discuss a few of these in detail.
Work Opportunities While and After Graduation
Perhaps one of the most important factors to consider while choosing an international education destination is the work opportunities available for international professionals. Australia tops the list in this area by providing lucrative opportunities to graduates.
The Australian economy is growing at a growth rate of 2.7% every year, making it a stable market for professionals.
According to the Government of Australia's Labour Market Information Portal, employment is projected to go up in 16 out of the 19 broad industries over the next five years, healthcare and social assistance industries recording the highest growth rate. (source: LMIP)
The latest guidelines of the country also make it easier for international students to take up part-time jobs in Australia and add value to their resumes even if they wish to head back to their home country upon graduation. International students in Australia are permitted to work for up to 20 hours per week when school is in session, and there is no set limit on the number of hours they can work on holidays.
The minimum wage in Australia is 17 dollars per hour and can help students cover a good portion of their expenses, including rent and groceries. 
Something for Everyone
Australian universities offer world-class education in a multitude of fields. It doesn't matter what you major in; there is something for you in this country. Whether you're studying Medicine or Mathematics, dance or drama, there is an Australian university for you.
For instance, the Australian National University offers over 750 course-combinations.  (Source: Australian National University) Moreover, if you study in Australia, not only will you be able to attend classes in the field of your major, you will also be allowed to broaden your spectrum by opting for offbeat courses that may not be available elsewhere.
However, some of the best courses to study in Australia are - accountancy, architecture, biomedical engineering, computer science and information technology, psychology and tourism and hospitality management.
Easy PR Regulations
You can avail permanent residentship of Australia by applying for and being granted a permanent visa. This permanent visa allows you to stay and work in Australia for five years. After living in the country on a PR visa for three years, you can apply for citizenship. 
While there are many categories you may want to apply for your visa under, and each category has different eligibility requirements, but the general eligibility factors include age, language proficiency, skilled occupation, and points.
A candidate must score at least 65 points from the point grid to be eligible for a PR visa. 
Category

Maximum Points

Age (25-33 years)

30 Points

English Proficiency (8 bands)

20 Points

Work Experience Outside Australia (8-10 years)

15 Points

Work Experience In Australia (8-10 years)

20 Points

Education Outside Australia - Doctorate Degree

20 Points

Niche Skills Such As Doctorate or Masters Degree By Research In Australia

10 Points

Study In Regional Area

5 Points

Accredited In Community Language

5 Points

Professional Year In Skilled Program In Australia

5 Points

State Sponsorship (190 Visa)

5 Points

Skilled Spouse Or De Facto Partner

10 Points

Spouse Or De Facto Partner With Competent English

5 Points

Applicant Without A Spouse Or A De Facto Partner/ Spouse Or

De Factor Partner A Australian Citizen Or PR

10 Points
This is obviously another extremely important thing you must consider before choosing your foreign education destination. 
These reasons prove that Australian education will guarantee a lucrative career for you. Pearson PTE Academic can help you get there. Many PTE centres are now open and are functioning with all the safety guidelines in mind. This has been done to allow aspirants to avoid wasting any more time and accelerate their efforts towards their international education dreams! 
The following infographic gives you a clear recap.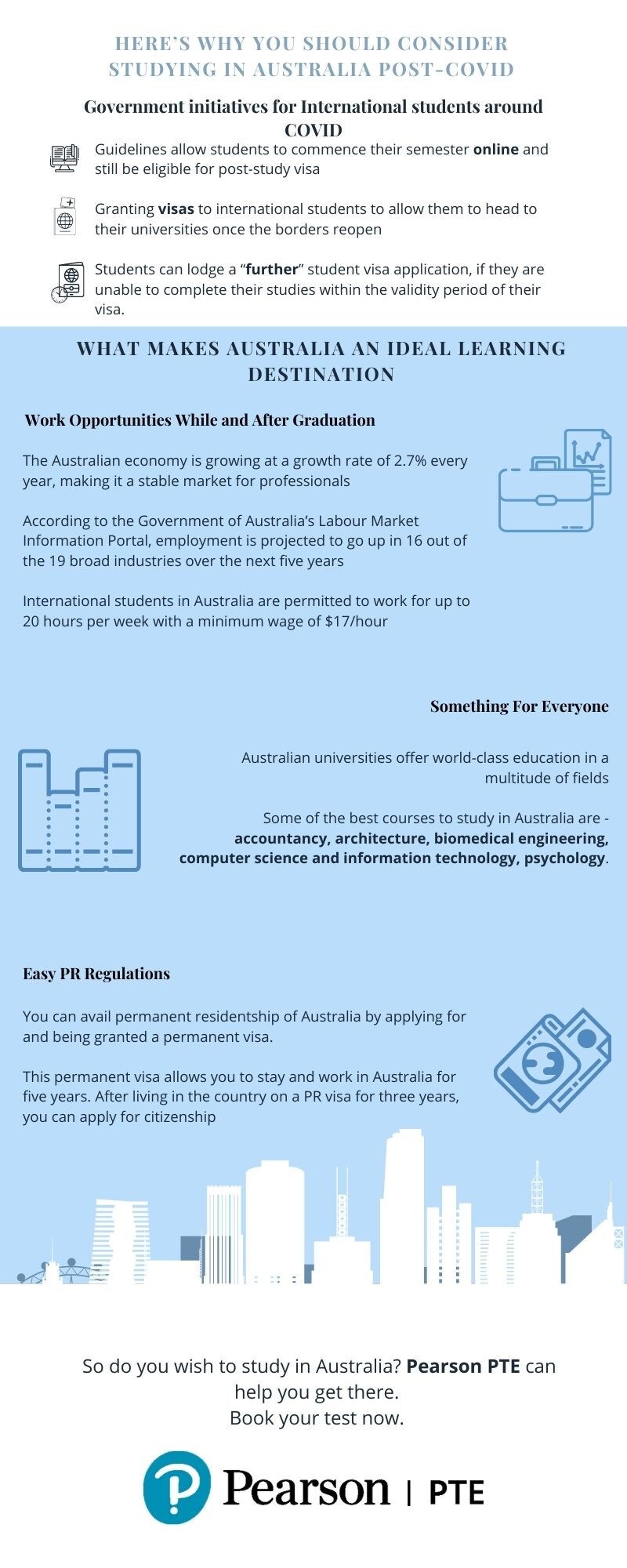 Book your Pearson PTE test here.