Prepare For Competitive Exams With The Perfect Blend Of Online and Offline Modes Of Instruction

Cracking a competitive exam is your pathway to a lucrative career. However, being successful in cracking these exams is not a piece of cake. It requires consistency, dedication and a well-planned strategy. While some students take up coaching classes for their preparations, it might not be enough.

Students now have access to ample online resources that can enable them to study independently from the comfort of their home. Not only does this help in brushing up the concepts taught in the coaching class, but it also helps students assess themselves and test their progress.
In fact, many experts believe that studying independently and assessing your progress can significantly enhance your learnings. With the right resources and a mix of online and offline modes of instruction, students can effectively prepare for competitive exams and pursue their dreams of having a lucrative career.
Here are a few tips that can help you attain the perfect mix of online and offline modes of instruction and make your preparations rock-solid.
Shorter Study Sessions Work Better
Several studies have proven that it is incredibly important to moderate your time when it comes to studying. In fact, some researches have shown that students can cover the same amount of syllabus in one-hour sessions spread over four days as they can in a single six-hour long session.
While you cannot control the schedule of your coaching classes, this is an incredibly important tip while creating your self-study schedule. A good tip is to take small assessments to test your progress on a day to day basis. Devoting multiple small portions of time to your preparations would ensure that you are learning with an energetic mind and prevent you from getting bored, which is one of the biggest problems students face when they try to study on their own.
Synchronize Your Online And Offline Syllabus
The syllabus for competitive exams is often extremely vast and requires you to be completely thorough with every concept. That is why, it is extremely important to dive deep into the topics and have the entire syllabus on tips. However, If stats are to be believed, people forget more than 70 per cent of their learnings if not reinforced the same day.
Which is why it is recommended to synchronize your online and offline syllabus. If there's an important topic being taught in your coaching session, revising the same concept through digital assessments gives you an opportunity to brush those concepts at your own pace and develop a deeper understanding of the syllabus and identify your weaknesses.
Avoid Studying Till Late At Night
While it is understandable that different individuals have their own preferences when it comes to their favoured study times, experts don't recommend studying at odd times. This is majorly because having a proper sleeping schedule is incredibly important while preparing for any exam.
A better alternative could be balancing your study schedule by waking up early. The image below showcases a few benefits of studying early in the morning.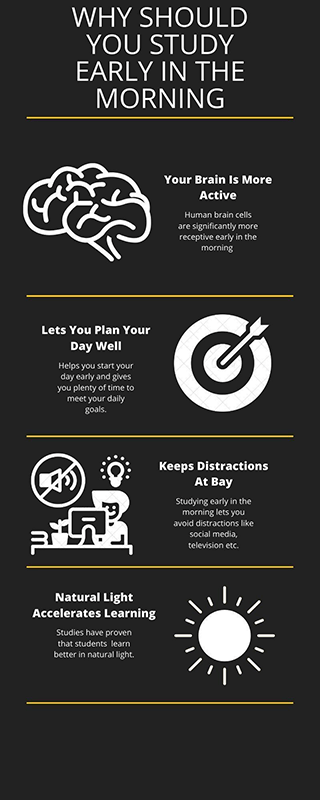 One of the biggest advantages of learning online is that you can study as per your schedule, and this advantage can be leveraged here. You can attend your online classes
or take digital tests in the morning and avail these benefits. This will also help you in identifying the areas that you especially need help in, and these doubts can be raised again when you attend your offline coaching sessions.
With these tips and tricks, you can get the best out of your online sessions and use them to enhance the effectivity of your coaching classes If you are looking for a useful digital assessment program to prepare for your competitive exam, Pearson MyInsights can be the one for you.
MyInsights is a well designed, intuitive assessment engine that can be customised to each learner's individual level of knowledge to bring them to where they need to be when preparing for competitive exams. MyInsights provides you with the leading edge of digital preparation and helps you prepare for your competitive exams in the most efficient way.