The New Education Policy & Its Effect On Mental Health
Holistic Learning Experience
Holistic learning approach will reduce stress on students for competitive exams like JEE and NEET and with the 10th boards being lifted , the stress for students will reduce even more. Practical based hands-on learning which is not merely limited to a conventional cramming-based learning environment will boost confidence in students enabling them to take better life decisions in future.
Digital Learning+sports Integration
Learning coding from age 6 will empower students to develop skill sets for tomorrow. Sports have such strong and positive influence on mental wellbeing and some mental illnesses. Participation in regular physical activity can increase self-esteem and reduce stress and anxiety. Students will learn to deal with failures and prepare themselves with an attitude of winning and team spirit.

Change In The Pedagogical Structure To 5+3+3+4
This change is going to increase employability in youth and in turn help in reducing stress over jobs and being financially secure. The decision to choose which field is now made easy- elimination of rigid streams in secondary education and with more structured way of learning , students will be able to have the clarity of what they want to do in life.

Focus On Pre-primary And Multidisciplinary Courses

Statistics tell us that three in four mental illnesses start in childhood. Early childhood care and education play a vital role in building a foundation for life. The NEP focuses not just on critical skills but also social and emotional skills like knowledge seeking, logical thinking, empathy, skills like communication, teamwork, etc.

What Is Mental Health

Mental health includes our emotional, psychological, and social well-being. It affects how we think, feel, and act. It also helps determine how we handle stress,relate to others, and make choices. Mental health is important at every stage of life, from childhood and adolescence through adulthood. Positive mental health allows people to:
Realize their full potential.Cope with the stresses of life.
Work productively.
Make meaningful contributions to their communities

Skill based & vocational learning
Skill based and vocational programs can help youth with severe mental illness develop the skills and attitudes necessary to attain employment. Skill gains and positive changes in work attitudes will be seen for youth of the future.
Multiple Exits + Common Entrance Test
Issues like career counselling problems, including poor decision making skills, unwillingness to make commitments, unclear values, low career self-efficacy, undeveloped personal and vocational identities, and career foreclosure-such decisions will be easier.

Teacher Training
An educators' mental health is one of the biggest factors in a students' academic growth, as the mental health of teachers and students are interconnected, thus directly affecting their learning and outcomes.Teachers will be well equipped with not just better results but even dealing with students going through stress andmental pressure.

Expansion Of The Food Program
Factors such as poorer physical health, and living in poverty, or deprived communities, have been found to be associated with poorer mental health and wellbeing. Better nutrition equals better mental health. The program will help have a positive impact on turn out ratio and better mental well-being.

Mental Health In School
- To better enable the educators to identify, support and refer students needing help.
- To increase knowledge, behaviours in teachers, students and parents supporting good mental health and well-being.
- To increase the willingness students and parents to seek help for mental health issues.
- To decrease stigma towards individuals living with mental illness.

The New Education Policy

The Government replaced a 34-year-old National Policy on Education, framed in 1986, and has significantly made the new policy more mental health inclusive. With low stakes in board exams, more focus on liberal and vocational learnings, students are less likely to be mugging books and carrying heavy bags to schools,students would rather be more practical and vigilant citizens of our society under this policy.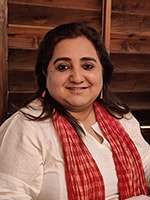 By Dr. Geetanjali Kumar