What's New
Marketing Management, 16th edition by Philip Kotler
Dubbed as "the Bible of Marketing", Pearson's all-time best seller "Marketing Management" by Philip Kotler is now in its 16th edition.
Key Features 

Chapter opening case studies
Marketing Insight emphasizes a key marketing concept for in-depth coverage and better understanding
Marketing Spotlight–relevant real-world cases of companies and brands to illustrate the marketing concepts
Chapter-end summary for a comprehensive and quick review.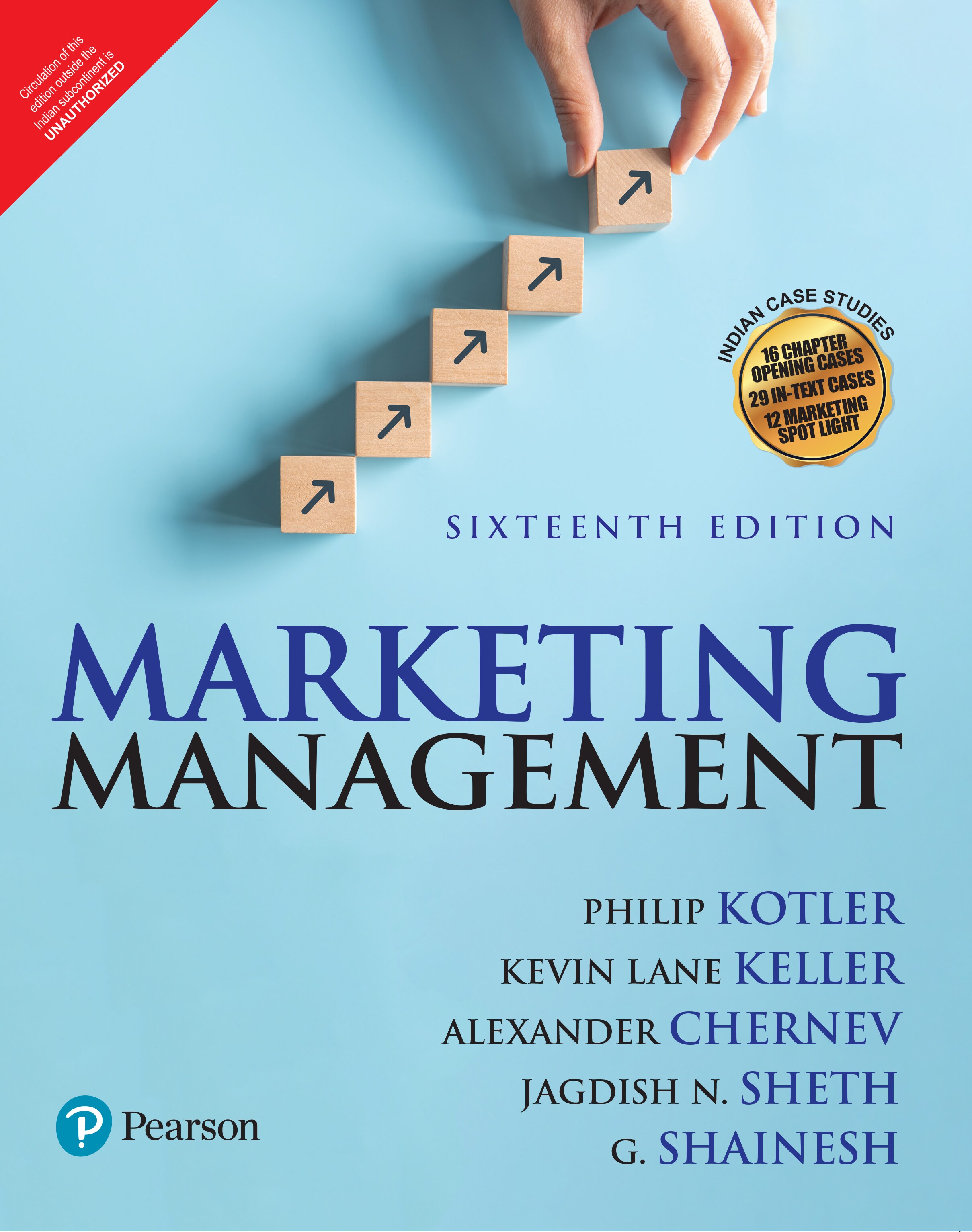 ISBN: 9789356062665

Highlights of this Edition
Feature enriched and updated content considering the tremendous evolution in business models owing to digitalization, social media marketing, growing e-commerce, and direct-to-consumer business.
Over 55 Case studies of leading Indian brands like Amul, Asian Paints, Bajaj, Bandhan Bank, Bigbasket, Biocon, Cadbury, Eureka Forbes, FabIndia, Fevicol, HDFC Bank, Infosys, Kaya Clinic, Mahindra, Maruti Suzuki, PaperBoat, Reliance Jio, SBI Yono, Taj Hotels, Tata Motors, Tanishq, Tata Trusts, Titan, TCS, Wipro, and many more.
Explores cases of new-age businesses like Clirnet, cult.fit, InMobi, id Vada, Lenskart, Treebo, udaan, and many others with differentiated models. 


Higher Education Books and Publications
Pearson's award-winning course materials provide an engaging & interactive learning experience focused on academic achievement.
Pearson's long-trusted content is authored by respected educators and practitioners from across the entire higher education curriculum.
Select your discipline below to explore our product offerings.
HED Portfolio
Covering a diverse range of streams
STEM

Physics

Org-chemistry


Bioscience


Mathematics


Geology


Office management

Microeconomics


Marketing


Decision science


Accounting and finance


Management


 Fashion Industry

Humanities & Social Science

Sociology


History


Psychology


E. S. Education


Political-Science


Anthrapology


Languages

New Age Technology

Technology Certifications

Programming



Open Source Technology


Cloud computing



Network and Security


Big Data, Machine learning & IOT

Digital Learning Solutions for Higher Education
With the shift to greater online delivery becoming a more permanent feature, delivering an engaging, impactful and valuable experience to all your students – regardless of their physical location – is key to the success of every course.
We have launched a ground-breaking suite of new digital products that will change the way students learn and teachers teach-with rich content accessible online and offline in any environment. They're specifically designed to save your time and engage students in the best way possible.
Now you can get anytime, anywhere access to your required Pearson eTexts and technology resources, right on your tablet/ laptop with us. Pearson Digital Learning Solutions are customized for you or your college to provide low-cost program solutions that meets the needs of both the students & the faculty.
Testimonials
"In order to promote a paperless environment, we started an experiment with Pearson eLibrary, having access to eBooks in Law, Management and Social Sciences. Our students were quite happy with the e-Books, mainly because it accommodates many style of learning and the search feature is an unbeatable concept. our librarians are equally satisfied because of the reduced storage space and cost-effective idea."
Dr. Sangeeta Paliwal, Deputy Librarian, Symbiosis International, Pune
"Our academicians and students are using the eResources introduced by Pearson in our campus.The e-Library is an extremely helpful tool for  knowledge dissemination and gives a virtual world feeling to the reader. The searchable text option is a thoughtful innovation, that leads you to a particular section of the book without having to flip through pages.  Learning has definitely come a long way."

Nilesh N Soni, Librarian, Saurashtra University


"Pearson has been very attentive and helpful from the beginning. Our college was able to find exactly what I needed in time and I am very satisfied with our library collection today. My sincere appreciation to the Pearson team for regular interactions and training programmes. We look forward to a great future together."



Dr. N. Padma, SPB College, Surat


"Pearson publishes premier quality Information Resources. This sources provides in depth knowledge of the subject area which enable and facilitate teachers, research scholars and students in their learning and research process."

Dr. Meeta Rathod Vansadia, Librarian,  BRCM College of Business Administration, Surat

"We have been using Pearson eLibrary since March 2018. It is one of the best eBook platform and useful to our students as well as faculty members."



Dr. Avijit Dutta, Librarian, Midnapore College