Artificial Intelligence Foundation Program
An Industry recommended and validated course aligned to 
SSC NASSCOM

 Artificial Intelligence Foundation curriculum


 SELF PACED COURSE

    58+ HOURS

  9971/-
 (INCLUSIVE OF TAXES)

Description
AI present opportunities to complement and supplement human intelligence and enrich the way people live and work. India, being the fastest growing economy with the second largest population in the world, has a significant stake in the AI revolution. This creates a need to enhance and empower young Indians with the skills to scale Indian-made AI solutions that can be implemented to the developing world.
Pearson's Artificial Intelligence Foundation curriculum is created and taught by globally renowned experts in the field of AI ensuring world class content. The self-paced videos are complemented by virtual labs which provide extensive hands-on coding practice within the course environment. Regular auto graded MCQ type quizzes are embedded within the course for self-assessment and a final assessment in the end.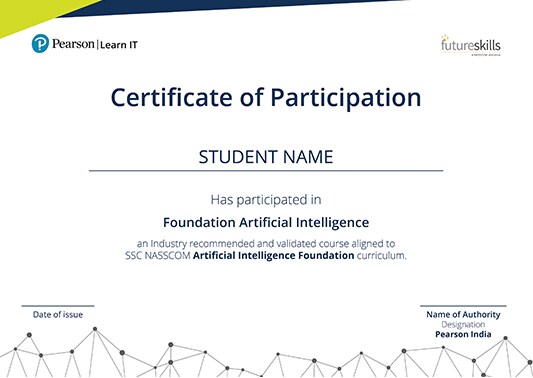 Program Highlights
Leading Instructors: Learn from internationally renowned AI experts

Technology in Action: Concepts are demonstrated with plenty of real-life use cases

Learn Anytime, anywhere: Learn at your pace on any device for minimum disruption to your job and family life

Flaunt Your Skills: Receive a certificate from Pearson, the world's leader in professional learning, and showcase your skills

Faculty Details

Noah Gift

Founder Pragmatic AI Labs | Author | Northwestern & Berkeley & UC Davis ML Lecturer | CTO | ML Engineering Expert


Ben Forta

Adobe- Senior Director of Education Initiatives | SQL Bestseller


Jared P. Lander

Founder- Lander Analytics | Adjunct Professor - Columbia University | Author of R for Everyone | Organizer of the World's Largest R Meetup

Syllabus
About Pearson
We are the world's largest education company, with over 35,000 employees in more than 70 countries helping people of all ages to make measurable progress in their lives. We provide a range of education products and services to institutions, governments and direct to individual learners that help people everywhere aim higher and fulfill their true potential.
Our commitment to them requires a holistic approach to education. It begins by using research to understand what sort of learning works best, it continues by bringing together people and organizations to develop ideas, and it comes back round by measuring the outcomes of our products. We're dedicated to improving access to better education. Because more than anything, learning transforms lives, helping individuals to progress, communities to flourish, and economies to succeed.