Gain advanced technical knowledge for a more cyber resilient organization

Post Graduate Program in Cybersecurity & Ethical Hacking

 Self-Paced Program

    3-4 MONTHS

  65,500   35,000
(+Applicable Taxes)
About the Program
Pearson's Post Graduate Program in Ethical Hacking & Cybersecurity is a comprehensive credential designed to bring you to the cutting edge of cybersecurity across a wide range of applications and tools. It teaches industry relevant concepts and skills to protect data, information and hardware assets from cyberthreats in the form of ransomware, malware, phishing and data breaches.
The program also prepares learners for industry recognized professional certificates like Certified Ethical Hacker (CEH) and Certified Information Systems Security Professional (CISSP). These are highly valued in the cybersecurity community and provide an edge to the learners over others in the job market.
Why Study Cybersecurity?
The Internet era has witnessed a host of new threats including phishing, ransomware, malware, data breaches and a disturbing string of cyber-attacks across blue chip corporations and government entities alike.
Billions of personal records are exposed and leaked each year, affecting an alarming percentage of the total world population. For corporations, the fallout includes lawsuits, loss of customer trust, and declining revenues. As wave after wave of high-profile cyber-attacks strike home, organizations around the world have no choice but to take cybersecurity more seriously than ever.
As threats continue to escalate, the cybersecurity talent shortage has become more and more severe. For every professional that gets trained, multiple new opportunities open up with leading corporations around the world, many of which lie unfilled waiting on the right candidate.
According to a report by BurningGlass, cybersecurity job postings have grown 94% since 2013, compared to only 30% for IT positions overall. In other words, Cybersecurity positions are growing three times faster than IT overall. This is a bright opportunity for people who are skilled in cybersecurity concepts and technologies.
Pearson's Post Graduate Program in Ethical Hacking & Cybersecurity is taught by world leading cybersecurity experts to help professionals gain industry relevant cybersecurity expertise that they need to make the most of this career opportunity.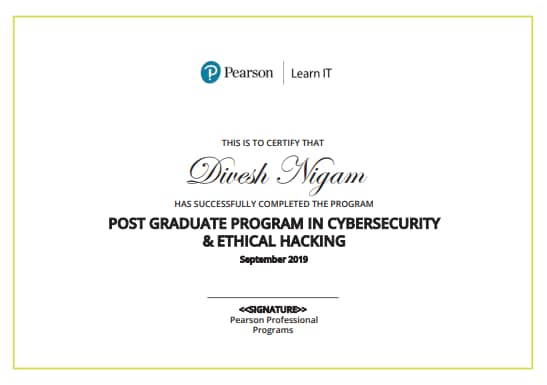 Program Highlights
Leading Cybersecurity Instructors: Learn from internationally renowned cybersecurity experts

Technology in Action: Concepts are demonstrated with plenty of real-life use cases
Learn Anytime, Anywhere: Learn at your pace on any device for minimum disruption to your job and family life.

Flaunt Your Skills: Receive a certificate from Pearson, the world's leader in professional learning, and showcase your skills within and outside of your organization.
Faculty Details

Sari Greene

 Cybersecurity Excellence Award Winner | Author | Entrepreneur | Educator

Omar Santos

Principal Engineer
Cisco Product Security Incident Response Team (PSIRT)


Chris McCoy

Technical Leader
Cisco's Advanced Security Initiatives Group (ASIG)


Jon Sternstein

Founder and Principal ConsultantStern Security

Syllabus
About Pearson
We are the world's largest education company, with over 35,000 employees in more than 70 countries helping people of all ages to make measurable progress in their lives. We provide a range of education products and services to institutions, governments and direct to individual learners that help people everywhere aim higher and fulfill their true potential.
Our commitment to them requires a holistic approach to education. It begins by using research to understand what sort of learning works best, it continues by bringing together people and organizations to develop ideas, and it comes back round by measuring the outcomes of our products. We're dedicated to improving access to better education. Because more than anything, learning transforms lives, helping individuals to progress, communities to flourish, and economies to succeed.