Cybersecurity Foundation Program
An Industry recommended and validated course aligned to SSC NASSCOM Cybersecurity Foundation curriculum

  SELF PACED PROGRAM

    42+ HOURS

   11,681 /-
(INCLUSIVE OF ALL TAXES)
Description
Cybersecurity Fundamentals teaches you the foundational concepts, theory, and techniques you need to know to become an effective cybersecurity expert. The course starts by covering fundamentals of cybersecurity, networking and then moves to security testing, incidence management and security operations.

Pearson's Cybersecurity Fundamentals is aligned to the model curriculum designed by NASSCOM- Sector Skills Council for graduates and working professionals. The course is created and taught by globally renowned experts in the field of Cybersecurity ensuring world class content. The self-paced videos cover practical exercises which provide extensive hands-on practice within the course environment. Auto graded MCQ type quizzes are also embedded within the course for regular self-assessment.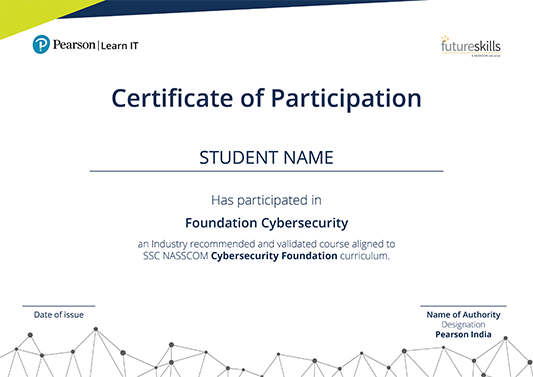 Program Highlights
Leading Instructors: Learn from internationally renowned Cybersecurity experts

Technology in Action: Concepts are demonstrated with plenty of real-life use cases

Learn Anytime, anywhere: Learn at your pace on any device for minimum disruption to your job and family life

Flaunt Your Skills: Receive a certificate from Pearson, the world's leader in professional learning, and showcase your skills

Faculty Details

Sari Greene
 Cybersecurity Excellence Award Winner | Author | Entrepreneur | Educator

Omar Santos

Principal Engineer
Cisco Product Security Incident Response Team (PSIRT)

Syllabus
The course is divided into 6 modules covering different levels of cybersecurity fundamentals.
Fundamentals of Cybersecurity- This module covers the history of cybersecurity, information security and different types of attacks

Fundamentals of Networking- This module covers basic concepts of networking protocols, devices, firewalls etc.

Basics of Security Testing- This module covers various security testing techniques and introduction to ethical hacking

Fundamentals of Access Management- This module covers identity and access management, CIA triad and best practices followed under access management

Fundamentals of Incident Management and Response- This module covers fundamental concepts of Incidence monitoring, identification, disaster mitigation etc.

Fundamentals of Security Operations- This module covers fundamentals of security forensics, continuous monitoring, data loss prevention and other tools

Who should take this course:
University students enrolled in streams such as Engineering, Computer Science, Sciences or Mathematics
Employed professionals who wish to explore their career options and interests with regards to Cybersecurity and Information Security

Enthusiasts curious about understanding the hype behind Cybersecurity

Course Requirements:
Prior understanding of networking infrastructure and security would be desirable, but it is not mandatory
About Pearson
We are the world's largest education company, with over 35,000 employees in more than 70 countries helping people of all ages to make measurable progress in their lives. We provide a range of education products and services to institutions, governments and direct to individual learners that help people everywhere aim higher and fulfill their true potential.
Our commitment to them requires a holistic approach to education. It begins by using research to understand what sort of learning works best, it continues by bringing together people and organizations to develop ideas, and it comes back round by measuring the outcomes of our products. We're dedicated to improving access to better education. Because more than anything, learning transforms lives, helping individuals to progress, communities to flourish, and economies to succeed.