DATA SCIENCE AND BIG DATA ANALYTICS
Making Data-Driven Decisions

   Self Paced

   7 Weeks

   54,000 (+Applicable Taxes)
Overview
As the demand for new data is on the rise, there is a need to handle and analyze large datasets to get valuable business insights. An organization generates new data for its customers, processes, and industries on a day-to-day basis. The question is – how to use data effectively?
Learn the art of achieving tremendous results with big data in this seven-week online course and earn an MIT Certificate on Data Science as well as 1.8 Continuing Education Units (CEUs) upon completion.

What you'll learn :
Data science techniques to manage the data management challenges of the organization
Identify and check common pitfalls in big data analytics.Data mining using machine learning algorithms
Make better business decisions by interpreting analytical models
Convert datasets to models through predictive analytics
Recognize the challenges associated with scaling big data algorithms
Understand how to represent the data when making predictions.
Who Should Participate
This course is designed for those who wish to turn big data into actionable insights. The course is well suited for data scientists, data analytics, early-career aspirants and experienced professionals. As is not an introductory course, the participants should have a substantial background knowledge of statistical techniques and data calculations or quantitative methods of data research.
Participants may include:
Technical managers
Business intelligence analysts
Management consultants
IT practitioners
Business managers
Data science managers
Data science enthusiasts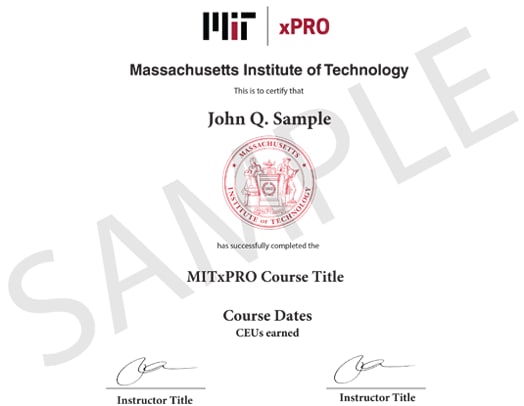 Job Outlook
Syllabus
To achieve the best learning objectives, the course material blends the following pedagogical strategies: 
Instructivism: Teacher-centered learning where the instructors present relevant content (tutorial videos enhanced with animation and graphics). Students will test their knowledge through graded tests.
Constructivism: Learning by doing approach. We encourage learners to construct their own understanding through solving the mandatory and optional case studies and practicing.
Social constructivism: Learning through social interactions and communication. You will be able to discuss with your peers in the discussion groups, and evaluate and get reviews from your peers through two compulsory case studies.
Connectivism: Connecting with others and extending your knowledge through communication. You will be able to expand and share your knowledge with others through the Discussion group, and course groups on Facebook, and LinkedIn.
Instructor

Devavrat Shah, Course Co-Director

Director, Statistics and Data Science Center (SDSC); Professor, Electrical Engineering and Computer Science; Member, Laboratory for Information and Decision Systems (LIDS), Computer Science and Artificial Intelligence Laboratory (CSAIL), and Operations Research Center (ORC)


Philippe Rigollet, Course Co-Director
Associate Professor, Mathematics department and Statistics and Data Science Center (SDSC)

Guy Bresler
Assistant Professor, Electrical Engineering and Computer Science, LIDS and IDSS


Tamara Broderick
Assistant Professor, Institute for Data, Systems, and Society (IDSS), Electrical Engineering and Computer Science Department (EECS)


Victor Chernozhukov

Professor, Department of Economics; Statistics and Data Science Center (SDSC)

David Gamarnik

Professor, Sloan School of Management, IDSS, and the Operations Research Center


Stefanie Jegelka

Associate Professor, Department of Electrical Engineering and Computer Science, member of the MIT Computer Science and Artificial Intelligence Laboratory (CSAIL) and Institute for Data, Systems, and Society (IDSS)


Jonathan Kelner

Professor, Department of Mathematics and a member of the MIT Computer Science and Artificial Intelligence Laboratory (CSAIL)


Ankur Moitra

Associate Professor, Department of Mathematics and member of the Computer Science and Artificial Intelligence Lab (CSAIL)


Caroline Uhler

Associate Professor, Institute for Data, Systems, and Society (IDSS), Electrical Engineering and Computer Science Department (EECS)


Kalyan Veeramachaneni
Principal Research Scientist, MIT Laboratory for Information and Decision Systems (LIDS)