BECOME AN EXPERT IN
SUPPLY CHAIN MANAGEMENT
WITH MIT'S TOP RANKED PROGRAM

   BLENDED

   9 TO 18 MONTHS*

   1,05,000  84,506**
(+ APPLICABLE TAXES)
*(COURSE DURATION PROJECTED BASIS EFFORT OF 8-12 HOURS PER WEEK)
***English proficiency mandatory
Overview
As Supply Chain Management continues to grow as a critical business function for organizations' competitive and financial performance, it makes it one of the top skills to invest in both today and in the future.
This Micromasters® Credential will showcase your understanding of supply chain analytics, design, technology, dynamics and end-to-end supply chain management. Build on the credential and take advantage of a great opportunity to be accepted into the #1 ranked supply chain management Masters Degree program for a fraction of the cost.    
What you'll learn :
To apply core methodologies (probability, statistics, optimization) used in supply chain modeling and analysis
To understand and use fundamental models to make trade-offs between forecasting, inventory, and transportation
To design supply chain networks as well as financial and information flows
To understand how supply chains act as systems and interact
How technology is used within supply chains; from fundamentals to packaged software systems
End to end supply chain management
Impact of capacity utilization on throughput time under demand variability
Managing uncertainty & risks in the supply chain
Industry best practices from leading practitioners

"Walmart is always looking to hire the most talented associates in the world, and completing online courses like the MITx Micromasters® credential in Supply Chain Management is a powerful way for people to learn the important skills required to be successful."
— Chris Sultemeier, EVP of Logistics, Walmart U.S.


Program Benefits

Cutting Edge Curriculum
This innovative online program is designed to help you build cutting-edge expertise in Supply Chain Management and to demonstrate this expertise through a credit-bearing Micromasters® from MIT. This Micromasters® Program is an advanced, professional, graduate-level foundation in Supply Chain Management. It represents the equivalent of 1 semester's worth of coursework at MIT.
For The Industry. By The Industry
Apart from the latest research and academic inputs, this program offers critical inputs from Industry leaders to ensure the highest degree of practical relevance. Participants are eligible to join a Live online video interactions with 4 supply chain experts and senior industry practitioners to learn about how these concepts are being applied in the Indian environment. In addition, participants will be pitted against each another in a Live Simulation to test their ability to apply course concepts in the real world.



Career Support
Our career support team would assist you with compelling resume writing, focused interview preparation and applying for suitable supply chain management profiles.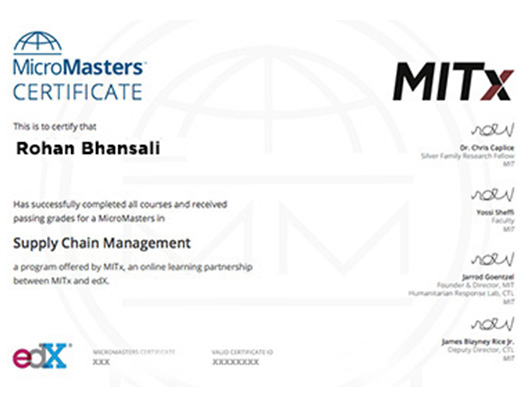 MIT's Ranking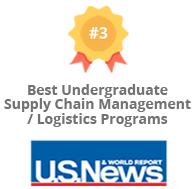 Instructor

Yossi Sheffi

Faculty
MIT

Christopher Cassa

Lecturer, Supply Chain
Management Program
MIT


James Blayney Rice

Deputy Director, CTL
MIT

Chris Caplice

Director, MITx MicroMasters Program
in Supply Chain Management
MIT


Jarrod Goentzel

CITE Scalability Lead
MIT

Eva Ponce

Executive Director, MITx MicroMasters
Program in Supply Chain Management
MIT


Bruce Arntzen

Executive Director, Supply Chain
Management Program
MIT