Each lesson in MyPedia is built upon the 5i model of instruction, which structures the learning process into five phases: inception, ideation, inculcation, inscription, and inquisition. As students cycle through these phases, they explore novel questions and examples, apply their developing knowledge and skills, and receive feedback on their learning. The 5i model is based on the renowned BSCS 5E model, an instructional model based on educational theory and supported by empirical research. 
Inception
What is it?
The teacher leads a warm-up activity or discussion that fosters students' interest and elicits their prior knowledge. For example, a Grade 2 lesson on the differences between living and nonliving things begins with students discussing with one another how much they have grown over the last few years, prompting them to think about how they grow and change over time.
Why is it effective?
Engaging students' prior knowledge—here, about how living things grow—is a crucial component of teaching and learning, because learning fundamentally involves adding to and reorganizing existing knowledge according to new information. Additionally, fostering student interest supports learning by increasing attention and positive emotion. Principals and teachers who use MyPedia notice its effect on student emotion, with 94% of those surveyed agreeing that MyPedia contributes to students' positive attitudes towards learning.
Ideation
What is it?
Students complete an activity that establishes core concepts, challenges possible misconceptions, and introduces a set of concrete examples that form the basis for further instruction. For example, the lesson on living versus nonliving things continues with a discussion of whether certain objects in the classroom, such as the tables, grow over time. Comparing students and classroom objects establishes concrete examples of living and nonliving things.
Why is it effective?
Learning new concepts, such as the properties of living things, can require students to think in the abstract. Research suggests that one effective approach to teaching abstract concepts is to begin with concrete examples and slowly progress to more abstract thinking. Learning also often involves confronting existing misconceptions, itself a productive part of the learning process. Establishing and discussing examples can help uncover and challenge misconceptions.
Inculcation
What is it?
The teacher directs students' attention to key concepts from the previous activities, often asking students to attempt to explain them. The teacher then provides a direct explanation of key concepts. For example, students attempt to explain why humans are living things and classroom objects like the tables are not. The teacher then explains the primary differences between living and nonliving things.
Why is it effective?
When students develop their own explanations, they deeply engage their prior knowledge and relate it to what they have just learned or experienced. Doing so leads to greater learning than simply being presented with the teacher's explanation. In addition, students' explanations can be used by the teacher to adjust her teaching to address any specific misconceptions.
Inscription
What is it?
In this phase, students apply their developing knowledge to new scenarios or problems. They are free to consult the teacher and the course materials for help. For example, the students complete a worksheet that presents a tree, an airplane, and a cat and for each asks students to use what they have just learned to determine why each is either a living or nonliving thing.
Why is it effective?
A central goal in learning is transfer, or the ability to apply knowledge to new situations. Completing worksheets and other activities gives students practice in transferring their knowledge. Because students can consult the teacher and course materials, they also learn how to use available resources to help them, which is an important part of being able to transfer knowledge effectively.
Inquisition
What is it?
The teacher checks student understanding by asking a question or doing an activity. The teacher then provides feedback and any necessary remediation. This assessment, feedback, and remediation are provided regularly throughout the learning process. In the lesson on living and nonliving things, the teacher reviews the worksheet with the students, assessing students' answers and clearing up any misunderstandings that those answers reveal.
Why is it effective?
Assessment is not only a means to measure the outcome of the learning process—it also forms the basis for providing feedback and personalizing instruction. Research shows that regularly providing learners with feedback is crucial to learning.
Interdisciplinary theme-based learning
Education research suggests that interdisciplinary learning help students understand connections between what they learn. This in turn equips learner with necessary skills needed to connect with the real world and solve problems in effective and efficient manner. MyPedia curriculum and content is presented with the help of seven themes across grades, developing specific skills at every level. MyPedia encourages learning beyond subject boundaries, so that the learners can make connections between different areas of learning.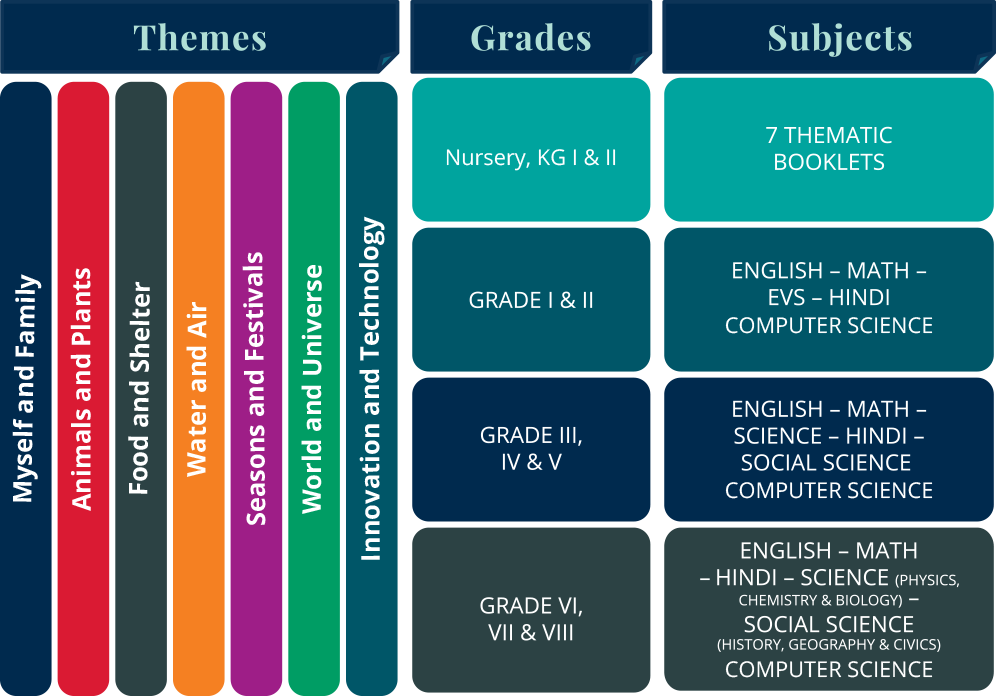 What MyPedia offers